Strategic Decision Making: A discovery-led approach to critical choices in turbulent times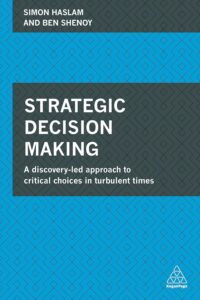 Good decision making is at the heart of effective strategy. But enterprises are struggling to make sound decisions in a world that's ever more confusing and unpredictable. Much of what we understand about strategy was created in the 20th century, when the prevailing rules were that you could imagine what you're aiming for, and have a reasonably good idea of how to get there. However, forces arising from technology, globalization, economics and society are conspiring to create a complex, changing and confusing environment in which this conventional wisdom increasingly falls short.
So how can enterprises respond appropriately in such a perplexing environment?
In Strategic Decision Making, we argue that strategic decision making needs to become more discovery-led, so that the way in which you make decisions depends on the balance between what you know, what you don't know and what you think you know.
"In a world that is uncertain, with political, economic and social disruption the norm, the insight provided is invaluable. The balance between academic rigour and, crucially, real-life practice, makes it a must-read for any senior executive tasked with the privilege and challenge of making decisions that affect the future of their organizations."

Louise Gulliver, Managing Director, Institute of Directors
"This book presents fresh insights and a contemporary perspective based on an iterative, non-linear approach to strategic decision making. It offers a holistic framework for organizations seeking to adapt to the chaotic and challenging times of the 21st century."

Stephan Thoma, Executive Advisor, formerly Learning and Development Director, Google
"This book presents a useful critique of the strategic planning methods we have become used to before going on to set out an apporach that is altogether more suited to the digital era. It is an important read for anybody involved in developing strategy."

Simon Murray, Co-founder of the acumen7 network, former Chairman of Osborne and Non-Executive Director of Highways England